Actions
Work Header
Rating:

Category:

Fandom:

Relationship:

Characters:

Additional Tags:

Language:

English

Collections:

Stats:

Published:

2020-01-26

Words:

19

Chapters:

1/1

Comments:

3

Kudos:

22

Bookmarks:

Hits:

412
[PODFIC] It's not a competition by notallballs
Summary:
Kageyama and Hinata go home to watch the fireworks together.
Notes:
I love these dumb boys so much.

Thank you Notallballs for letting me podfic this! :D
Work Text: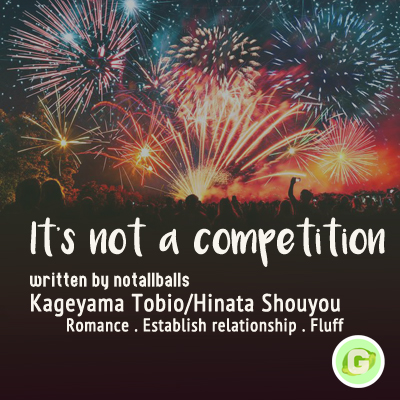 LENGHT: 10:55 mins | SIZE: 10mb
Right-click+"save link as" the streaming link to download! :D
Actions
Dawn_Plum, nervouscupcakeinspace, JaneTheCrazedFanGirl, Andreil1588Fan_exe, Cerion, FandomPrisoner18, averytree, TaliaMamane, AngelOfUwus, WhoreForFluff, Zarahy, Mizuki_Neko, Lily801, and KissesKisses as well as 8 guests left kudos on this work!