Actions
Work Header
Rating:

Category:

Fandoms:

Relationship:

Character:

Additional Tags:

Language:

English

Series:

← Previous Work

Part 24 of the Drawbles series

Stats:

Published:

2019-11-29

Words:

0

Chapters:

1/1

Comments:

14

Kudos:

80

Bookmarks:

Hits:

678
Doodle for Gwyn's "I'd rewrite the book of love, and make it funny"
Summary:
Pencil sketch of a scene from the story: Frog!Steve sitting in puddle near a storm drain.
Notes:
(See the end of the work for notes.)
Work Text: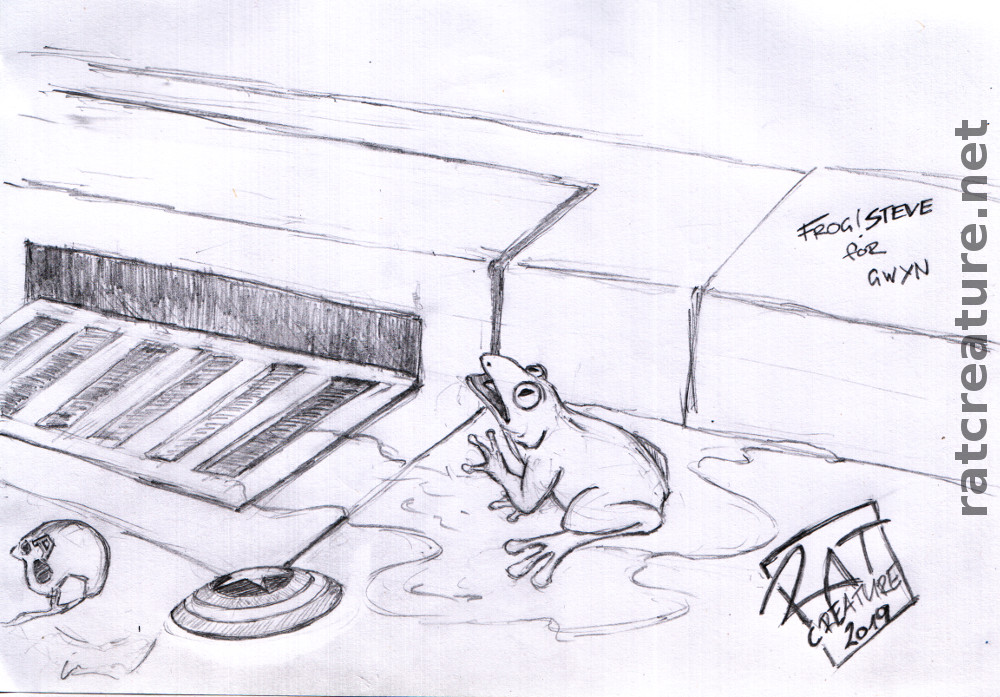 Notes:
Please do not distribute my art without my permission, i.e. do not upload my art to other sites, services, archives, or wikis. That includes uploading the images themselves to your own Tumblr, even with credit.
Series this work belongs to:
Actions
kinesnerd, icbn, jb_slasher, Lozza, hemmogoblin, Sunspark, JustGalsBeingPals, TooObsessed, Talent_of_the_Firebird, killerlashes, PerplexinglyParadoxialPerson, Annaslug, Weaselwoman, buckythepizzadog, possibleplatypus, felinefemme, Mel_icios24, xansayshi, Coeur_de_Coeurs, insomnia1999, entigral, aisubeki, CamSchaum, FghtInUs, mmouse15, DandieeLyon, Manahime, mammal, Nush, 4theglory, tptigger, Loz, Lasgalendil, KimW, Hyperthetical, mirwebb, satis, judy3cubed, jazzy2may, Kirinleaf, BethofAus, Strange_charm, Grammarwoman, exlibrisinsomnia, myntti, Kuja, gyrbug, SubieZan, frantaire, hypertwink, and 19 more users kratzed, bedlamsbard, Tenillypo, ChocolateOctopus, Ardentsia, jillapet, thigmotaxis, blissthisway, Absconded, musesfool, RembrandtsWife, noxelementalist, WinterStorm1803, romanticalgirl, LosingInterest, DroolingFanGirl, Alphaess, lostinhistory and applegrassy as well as 11 guests left kudos on this work! (collapse)